Here's a quick update on the anthology:
We are currently well into the formatting process, regulating the layouts of all 20 stories and compiling them into book form!
We have decided to publish the anthology through Createspace, and to release it in print form on Amazon. We are also looking into releasing it on the Kindle.
Total cost so far: $0, and we hope to keep it that way!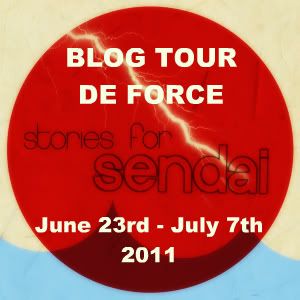 We've got lots of stuff planned leading up to release day on June 30th: a
Blog Tour de Force
is scheduled on J.C.'s blog from June 23rd to July 7th, and
Michelle is planning one on her blog too
! In addition, we'll be running a "Meet the Authors" feature here: on each day from June 10th to 29th, we will feature one of our contributing authors in an interview. So come by and say hi!
Now, apart from receiving a wonderfully designed book with 20 uplifting and inspirational stories, here's another incentive for buying your own copy of Stories for Sendai: email us a copy of your receipt and you will be entered into a...
PRIZE DRAW!
Prizes so far include manuscript critiques and Amazon gift vouchers!
The excitement is really building up now that the project is well under way! We're really grateful for all the support we've received so far, and we'll really appreciate any further assistance. Here's what you can do to help out:
Keep spreading the word! We want everyone to know about Stories for Sendai!
Buy a copy (or two) when it releases! If everybody buys the anthology on June 30th, it could boost the book's rankings up the Amazon chart, resulting in further exposure!
If you have any additional prizes to contribute to the prize draw, do get in touch! We will worship you forever!